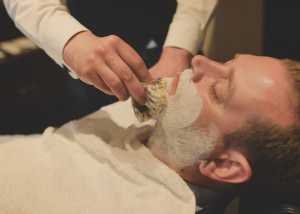 There is a lot of buzz about meditation and mindfulness at the moment. And it doesn't necessarily mean sitting in the lotus position, making odd ethereal noises. In our busy lives, our brains increasingly filled with information and chatter; there is little time calm down and reflect.
Notifications on our phone are like little stress signals to us, and our brains can't cope. However, meditation allows us to exist in the present and focus on one particular task. So why not let it be your evening shave? (we recommend an evening shave as having this type of a routine in the morning, may do your face more harm than good!)
Improve your shave and clear your mind
Shaving is something that we all do, but doing it properly not only reaps benefits for your skin, as you can add in proper preparation, but it also allows you to get into the daily habit of concentrating your focus on one task.
At mensgrooming.ie we have a variety of products to improve your shave. Our Pre Shave Oil will soften beard hair, and if you get into the habit of using a proper shaving brush  you will wonder why it took you so long to get into this great routine.
Don't settle for any old rubbish when it comes to shaving cream either. The Gentlemen's Tonic Traditional Shave Cream was shortlisted for 'Best New Shaving Product' in the Shortlist Men's Grooming Awards 2012.
If you want the ultimate shave itself, we recommend you use the Shave-Lab Razor set which will leave you with a shave that is (almost) as good as you can get in our rooms. Finish off with our Gentlemen's Tonic Soothing Aftershave Balm, and you will look, and smell a million dollars.
Spend the few minutes giving this task your FULL attention. If thoughts come into your head, note them and let them pass you.
Spend that time every day. Clear your mind (and your stubble) and you will be on the way to a great day.
Men's Grooming Ireland is one of the best Dublin Barber shops located in Stillorgan and known for its prestige, clientèle and traditions. We offer a remarkable lifestyle experience in a superior masculine environment and provide a premium range of relaxing grooming services, including advice on how to improve your shave.
Feel free to walk in or contact us on 01 288 28 70 and make an appointment.
FREE CAR PARK ON SITE. OPEN LATE 6 DAYS A WEEK. COMPLIMENTARY DRINKS FOR EVERY GUEST.
Blog Post by Paddy Comyn